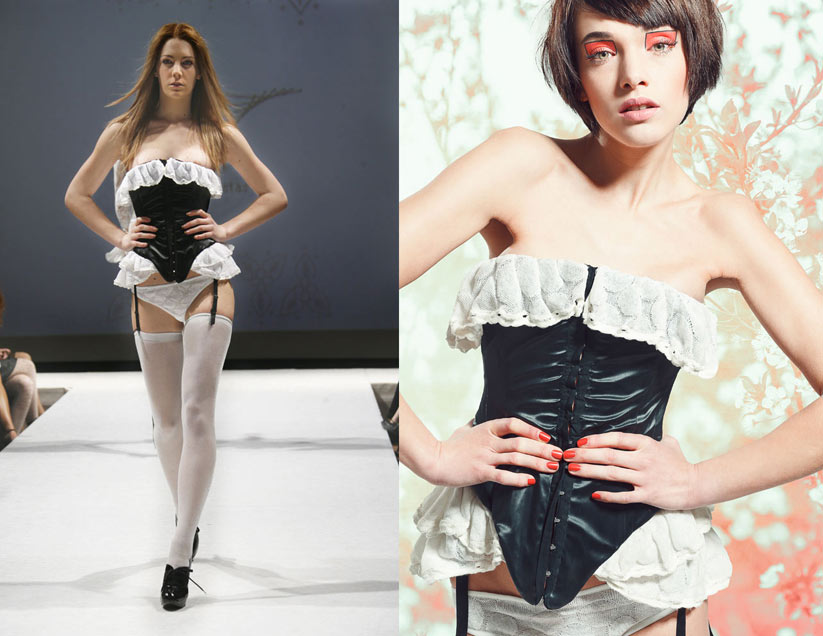 CONTRASTI
Black and White are the two colours characterizing the collection 'Contrasti'. These two colours accentuate the presence of an ongoing contrast:
– the rigidity of the materials used in the corsetry, light reflecting rubber and rubber-silk components that are medium or heavy weight and full covering
– the softness of knitwear details with transparent and perforated looms spreading lightness. Colliers and cuffs, embracing the same shades of the lingerie, are emphasized by lurex yarns.
Contrasti is the first lingerie collection produced by Ikonostas. The venue is the prestigious Palazzo Strozzi, in Florence, where the designer is invited to participate at a fashion show as being selected one of the first design brands chosen among Europe's most innovative lingerie. This was her first experience in this area, and perhaps her first approach in this field led to the unconventional mixing of rubber and knitwear.
Her collection has broken the rules of lingerie and truly captured the attention of American buyers, however she was forced to renounce this first opportunity as at that time she was seeking a skilled manufacturing company for production.